There are now many ways to explore the exciting work of William Pye...
New 'Work In Progress' section
An exciting new addition to the site showing all the projects that Pye is working on in their various stages of completion.
Explore geo-location
Discover Pye's public works via Google Maps, see where his pieces are in relation to you.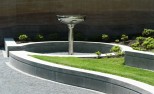 Browse 159 pieces from Pye's portfolio
Browse through all of Pye's pieces by size, date, location and concept.
See Pye's work come to life
Pye has collected many hours of footage of his pieces over the years and now some of these movies are available to view.
Find out what's going on
The latest news covers topics relating to Pye's latest shows, exhibitions, talks and events.
New book


William Pye: his work and his words

This book covers the whole of his creative career, from childhood to the Royal College of Art in the mid sixties, his post-student days up to the early eighties, and his work post-1984, up to the present, with water as an integral and essential element of his sculptures.
Works for sale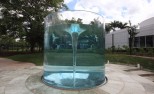 Caribdis
This work was commissioned by CPFL, an energy company in Campinas, Brazil. Most of Brazil's power comes from water in lakes by means of turbines that generate electricity. These are buried out of sight, deep within the recesses of hydroelectric dams. Caribdis celebrates this type of energy in visible form. It features a swirling vortex that symbolises the power and movement of a turbine. By deploying the vortex within a transparent cylinder, one can fully experience the drama and movement within.